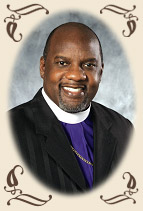 Bishop Steve Coleman was born March 8, 1957, in Pineville, Louisiana, the eldest of nine children. Licensed as a minister at the age of sixteen, Steve Coleman was ordained at his home church, Faith Mission Outreach Baptist Church, in Marksville, Louisiana, by his pastor and mentor, Bishop Earl Alexander, Sr. In 1975, he enrolled at Southern University in Baton Rouge, graduating four years later with a Bachelor of Science degree in chemistry. In August of that same year, Steve Coleman relocated to Westbrook, Maine, where he began his career with the S.D. Warren Company (now Sappi Fine Paper North America). In 1982, he married the former Evangelist Cheryl Janine White of Plymouth, North Carolina. Together the Colemans have raised two children, a son, Pietro (Jerrod) and a daughter, Stephanie. In 2001 the family grew with the union of Jerrod and the former Milka Pérez of New York, NY and in 2002 a grandson Jaylen followed by his brother Steven in 2004 and Aaron Michael in 2006.
In October of 1986, then Elder Coleman prayerfully accepted the request to re-open the doors of Portland's Williams Temple Church of God in Christ and to serve as its interim pastor. Approximately twenty people attended the first service, and enthusiasm soon spread throughout the community. Many expressed the desire for him to become the pastor. Elder Coleman was licensed in the Church of God in Christ by the late Elder Isaac L. Jackson, pastor of Christ Temple Church of God in Christ, in Auburn, Maine. Elder Coleman was soon ordained in the Church of God in Christ by then Overseer Dr. David W. Grayson, Sr. In April of 1987 Elder Coleman was installed as the pastor of Williams Temple.
Under Elder Coleman's leadership, Williams Temple has grown and become increasingly diverse. Its members at one time represented more than a dozen different countries. The physical structure of the church has changed greatly since that very first day, and building projects continue to expand both the church's capacity and its vision.

In 2004, Elder Coleman became Bishop-Designate of the Ecclesiastical Jurisdiction of Maine. On July 8, 2004, before his family, friends, congregation, and colleagues, he was officially installed as Bishop by Bishop Roy L. H. Winbush of the General Board and Jurisdictional Prelate of Louisiana First Jurisdiction, Church of God in Christ. Bishop Coleman is the third Bishop to hold the office for the State of Maine Jurisdiction, Church of God in Christ.
For nearly twenty years, Bishop Coleman served as the Jurisdictional Secretary and Treasurer for the Maine Jurisdiction. He also serves as Treasurer for the North East Christian Fellowship (NECF) and, more recently, as Assistant Treasurer of the New England Church of God in Christ Bishops' Council (NECBC).
Bishop Coleman is a man a faith, vision, and perseverance. But he is also a man of service. In 1993 he, with his wife Evangelist Cheryl Coleman, founded the community-based program known as H.Y.P.E. (Hard-Working Youth Pursuing Excellence), which began as a means of response and support to a local group of African American students dissatisfied with how they were being treated in local high schools. Further investigation found that issues didn't relate directly to academic abilities or behavioral problems. However, what became evident was that students' experiences were a result of being immersed in a predominately white environment without adequate support systems. Thus the mission of H.Y.P.E. is to help young people of African descent to acquire the skills necessary to offset the psychological and emotional effects of discrimination, whether subtle or overt, while preparing for lives as productive men and women of faith.
In February 2004, the United States Postal Service honored "his leadership and commitment to the young people in the Portland community" by awarding him their first annual United States Postal Service Black Heritage Stamp Series. Bishop Coleman has received numerous other accolades for his service.
Bishop Coleman is affiliated with the Portland branch of the NAACP, the Wayside Evening Soup Kitchen, Central Africa Vision 2000, and the Amistad Freedom Schooner Committee. He is also an African American College Grad Celebration Sponsor. Bishop Coleman also serves on the Advisory Committee for the Portland Freedom Trail (Underground Railroad).